April 17, 2017
Spring issue of Kansas Canopy newsletter available
Submitted by Jennifer Williams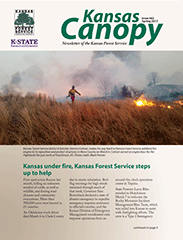 The spring 2017 issue of the Kansas Forest Service's quarterly newsletter, the Kansas Canopy, is available.
In this issue:
Spring wildfire activity in Kansas
Great Plains Windbreak and Riparian Assessment Initiative
Trees for Clean Water landowner financial assistance
Forester Highlight: Ashley Stiffarm
About My Woods mobile app
Smoke detectors and home fire safety
Tree City USA recognition
... and more!
View the newsletter, as well as older issues, on the Kansas Forest Service website.