April 17, 2017
Kansas State Polytechnic UAS professor keynote speaker at Kansas Natural Resources conference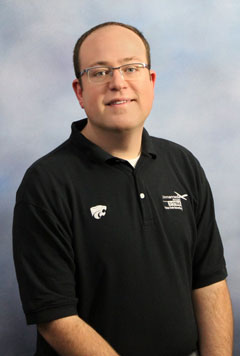 Another industry is seeing the potential of unmanned aircraft systems and has asked a professor at Kansas State University's Polytechnic Campus to serve as educator on the possible applications.
David Burchfield, a teaching assistant professor in the UAS program at Kansas State Polytechnic, was the keynote speaker at the 2017 Kansas Natural Resources GIS Technical Meeting on April 6. Burchfield, who specializes in UAS remote sensing data acquisition and processing, presented to geographic information systems, or GIS, professionals from across the state. His discussion, "Unmanned Aircraft Systems as a Geospatial Tool for Natural Resources," explored how UAS, or drones, can be valuably utilized in GIS mapping and data collection.
"Professionals in this industry are often looking for new ways to collect aerial data that can be incorporated into geographic information systems for many different purposes, and UAS represent an exciting, low-cost approach to collecting that data," Burchfield said.
The conference, now in its second year, is a venue for GIS professionals in natural resources conservation to collaborate on potential projects, share technical knowledge, build professional and organizational relationships and learn from other natural resources GIS professionals. Along with Burchfield giving the gathering's keynote address, there also were a variety of presenters from state, federal, tribal, local and nongovernmental organizations.
"We really enjoyed having David give the keynote at our meeting," said Erika Stanley, a representative from the Kansas Water Office. "We asked him to speak because unmanned aircraft systems are receiving a lot of attention in the GIS field and they have so many potential applications. David's expertise in the use of UAS platforms for the collection of natural resource data and his experience with forestry applications in Kansas was spot on for the audience of this meeting."
Before arriving at Kansas State Polytechnic, Burchfield worked as an image analyst, GIS specialist and UAS pilot for AgPixel in Des Moines, Iowa, creating aerial map products primarily for the agricultural industry. He holds a bachelor's degree in geography from Brigham Young University and a master's in geography from K-State, where he was involved with a multidisciplinary team of scientists that was exploring agricultural and natural resources applications of UAS-based remote sensing. Also while he was a K-State graduate student, Burchfield worked at the Kansas Forest Service in Manhattan as its GIS specialist.
To learn more about Kansas State Polytechnic's UAS academic degree options, contact the option coordinator, Michael Most at 785-826-2681 or mtmost@k-state.edu. For professional training offerings, including customizable courses, contact the campus's professional education and outreach office at 785-826-2633 or profed@k-state.edu. To inquire about UAS opportunities with the Applied Aviation Research Center, contact Kurt Carraway, UAS executive director of Kansas State University's Applied Aviation Research Center, at 785-826-7170 or kcarraway@k-state.edu.