We are open and accepting applications
!
Save the Date ... MPH Fall Orientation is Thursday, August 19 at 11:30 AM in the Mara Center (Trotter Hall) Attend in-person or via Zoom, Lunch served
MPH Summer Graduates Upcoming Defenses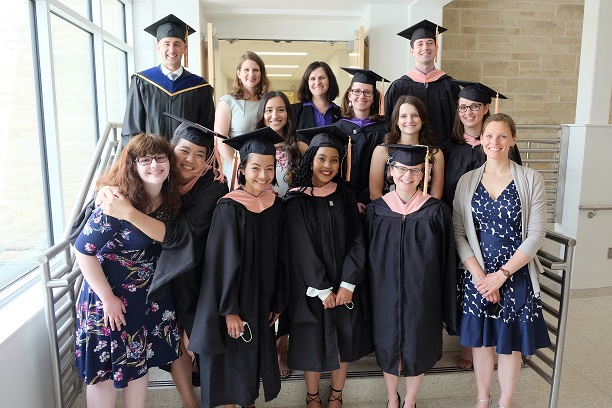 MPH Spring 2021 Graduates
Student
Area
Project Title
Miriam Avila
PHPA
Evaluation of the virtual Exercise is Medicine on Campus campaign: Effects on college students' physical activity perceptions and behaviors
Jason DeFisher
IDZ
Creation of a CASPER Survey Protocol for Use in Riley County Kansas
Crystal Futrell
FSB
A Risk Factor Study on Food Establishments in Kansas
Shelby Hunt
PHPA
Multi-Project Report: Physical Activity as a Mediator for Mental Health AND Nutrition Promotion in Riley County, Kansas
Anna Kucera
IDZ
Multiproject Report to Increase Riley County Health Department Public Health Professional Interconnectivity
Katharine McIver, DVM
IDZ
Recovery from a severe West Nile Virus in a one-year old stallion following interferon alpha-2b treatment: an equine model for human therapy
Erin Petro
IDZ
Reportable Disease Case and Close Contact Investigations in the Face of a Pandemic
Melitza Ramirez
PHPA
Riley County Health Department: Hispanic Outreach Project
Phutsadee Sanwisate
FSB
Food Safety Regulations: A Virtual Journey Across The Globe
Grace Sello
PHN
Developing a Community Assessment for Public Health Emergency Response Protocol for Riley County
MPH Early Summer Graduates
Student
Area
Project Title
Madeline Burke
IDZ
Analysis of communicable disease reports and
public education through COVID-19 contact tracing
Caitlin Jindrich
PHN
The nutritional adequacy of vegetarian menu substitutions in urban Kansas childcare centers
Ganesh Kumar
IDZ
Design a CASPER Survey Tool optimized for Riley County
Ron Orchard
IDZ
Resuming Essential Services During the COVID-19 Pandemic
Amanda Preczewski
IDZ
Evaluation of human and animal disease reporting to assess knowledge, compliance, attitudes, and barriers
AND Analysis of Riley County Health Department's outreach to Spanish-speaking residents
Lisa Ross
PHN
System Approaches for Healthy Communities, Web-Based Professional Development Program
Sarah Watkins
IDZ
Developing Kansas' plans for Transboundary Animal Disease Outbreak Response
To mitigate the spread of COVID-19:
Face masks are required on campus.

Contact your Instructor with any course related questions.
Contact Dr. Mulcahy with any program questions or concerns.
Information about current tuition and fees may be found on the "Cashiers and Students Accounts" page. For on-campus fees see the Graduate fee schedule. For distance courses see the Global Campus fee schedule.
K-State Secure Document Upload for Financial Aid