November 10, 2011
Stacy Kovar appointed as associate dean for academic programs of the College of Business Administration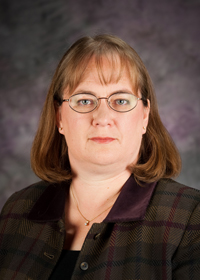 Stacy Kovar, accounting professor and PricewaterhouseCoopers faculty fellow, has been named associate dean for academic programs for the College of Business Administration.
Kovar, had been interim associate dean since May 2011. She was appointed to her current position after an internal search led by faculty of the college.
"Dr. Kovar has been doing an outstanding job as interim associate dean for the last months," said Ali Malekzadeh, Edgerley Family Dean of the college. "I concurred with the search committee and our colleagues in the CBA that she is the best candidate to fulfill this very important role in the college, and help us achieve the goals set for K-State Vision 2025."
As part of her duties, Kovar is in charge of the curricula of all undergraduate and graduate programs. She oversees academic advising, recruitment and student records.
"It is an honor to have been in this position for the last six months, and I am looking forward to helping to assure every student in the college has the resources and support to earn a cutting edge degree in business," said Kovar. "It is my privilege to work with our faculty, staff, alumni, students and their families."
Kovar earned a master of science and a PhD from Oklahoma State University. She earned a bachelor's from Washburn University. Currently she teaches accounting information systems and information technology consulting in the master of accountancy and master of business administration programs.