November 10, 2011
I Love Farmers announces WTF? Where's the Food? at K-State campus today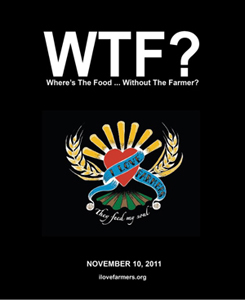 I Love Farmers...They Feed My Soul is coming to Kansas State University on Nov. 10. The movement of advocating agriculture will happen across the country to start conversations with college students and to disseminate materials that will lead them to credible sources of information about food and agriculture.
Today young people sporting official WTF? apparel will congregate at high traffic areas at the universities to distribute I Love Farmers...They Feed My Soul swag as well as disseminate credible information about the agriculture industry.
ILF will be active on Facebook and Twitter posting comments, photos and links from each university. Additionally, they will be tweeting with the hash tag #WTFILF2011.