November 10, 2011
Ninth annual Teaching Retreat: Submit your proposals to share ideas with teaching colleagues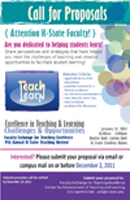 The Faculty Exchange for Teaching Excellence announces a call for proposals for the ninth annual K-State Teaching Retreat to be Jan. 11, 2012. Faculty, graduate students and individuals in other positions that support student learning are encouraged to submit proposals before the Dec. 2 deadline.

CHALLENGES & OPPORTUNITIES
Excellence in Teaching and Learning
Wednesday, Jan. 11, 2012
8:30 a.m. to 3 p.m.
Kedzie Hall and Calvin Hall
Manhattan Campus

Proposals may be submitted for interactive concurrent sessions of about 45 minutes or for posters to be displayed for viewing during the lunch and afternoon sessions. The theme this year is Excellence in Teaching and Learning: Challenges & Opportunities, and the topics field is wide open. We invite you to share the tips, strategies and perspectives that have helped you to meet the challenges of teaching and provide opportunities for learning.
The call for proposals can be found at: http://www.k-state.edu/catl/fete/
The deadline for submitting proposals is Friday, Dec. 2. Presenters will be notified by Dec. 15.

Registration for the retreat will be announced in a separate message.