November 10, 2011
Shane Giese named to senior vice president position at Kansas State University Foundation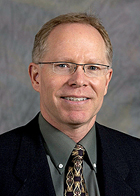 Shane Giese, Eugene, Ore., has been named to the position of senior vice president for development, at the Kansas State University Foundation. His appointment is effective Dec. 1.
Giese comes to the KSU Foundation with more than 25 years of experience in higher education development. He previously served as associate vice president for development at the University of Oregon where he was responsible for the management of the university's fundraising program and coordinating the development activities of seven schools, colleges and athletics. Giese helped to lead the university's fundraising team to the successful completion of a $600 million campaign, which reached a final total of more than $853 million. That campaign was completed in December of 2008.
Most recently Giese has been developing and implementing campaign strategy and analysis for the University's current campaign plans. Prior to working at the University of Oregon, Giese served Washington State University, Pullman, Wash., from 1990 until 2006 in three development positions, including senior vice president. He began his career in higher education development at Wayne State College, Wayne, Neb., serving as director of institutional development from 1986 until 1990.
In his new position as chief development officer at the KSU Foundation, Giese will have responsibility for development, advancement services, communications, donor relations and events.
Giese is originally from Wayne, Neb. He earned a bachelor's degree from Wayne State College in 1977, and a master's degree in business administration from Southern Oregon University in Ashland, Ore., in 1984.
"Shane Giese has outstanding experience as a development professional and a demonstrated record of success in leading university fundraising teams," said Fred A. Cholick, president and CEO of the Kansas State University Foundation. "We are pleased to welcome him to the Kansas State University Foundation and look forward to the benefit of his leadership. We know that private philanthropy will play a crucial role in helping the university achieve its goal to become a top 50 public research university by 2025. "
"I am looking forward to returning to the Midwest and joining the development team at K-State. The KSU Foundation has a strong leadership team in place and I am excited about the opportunities to help grow the fundraising program," Giese said.
Philanthropic contributions to K-State are coordinated by the Kansas State University Foundation. The foundation staff works with university partners to build lifelong relationships with alumni, friends, corporations, faculty, staff and students through involvement and investment in the university.