November 10, 2011
Two K-State faculty members receive inaugural Wildcat Pride Award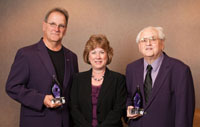 Two Kansas State University faculty members received the inaugural Wildcat Pride Award to recognize faculty or staff who have been instrumental in advancing the mission of the K-State Alumni Association through support of its programs.

Barry Flinchbaugh, professor of agricultural economics, and Frank Tracz, director of bands and professor of music, are the 2011-2012 award recipients. They received their awards recently at the association's fall board meeting.

The award honors a K-State faculty or staff member for his/her advocacy of alumni relations, with a special emphasis on support and participation in alumni programs that engage members of the Wildcat family.

"What brought these two faculty members to the top of our list was their extreme enthusiasm for K-State and their willingness to attend alumni association events throughout the country to connect with alumni, friends, prospective students and others in the Wildcat family," said Amy Button Renz, president and CEO of the association. "They are both outstanding representatives of K-State and have impacted the lives of countless students."

Flinchbaugh joined the K-State faculty in 1971. He earned his bachelor's degree in 1964 in animal science and his master's degree in 1967 in agricultural economics from Pennsylvania State University. He also earned his doctorate in agricultural economics from Purdue University in 1971.

A native of York, Pa., Flinchbaugh is a longtime adviser on agricultural policy to both political parties. He has served as adviser to numerous governors, U.S. senators, U.S. secretaries of agriculture and U.S. House and Senate committees, as well as international organizations.

As a professor of agricultural economics at K-State, Flinchbaugh has received the Outstanding Teacher Award from the College of Agriculture three times. He is the author of more than 100 publications, including an agricultural policy textbook.

Tracz is a native of Cleveland, Ohio, and came to K-State in 1993. He earned his bachelor's degree in music from Ohio State University, his master's degree from the University of Wisconsin-Madison, and his doctorate in philosophy (music education) from Ohio State.

As director of bands and professor of music, Tracz coordinates the undergraduate and graduate conducting programs, teaches classes in music education and administers and guides all aspects of the K-State band program. He is the director of the K-State Marching Band as well as the K-State Wind Ensemble. He oversees the Concert Band, University Band and Athletic Pep Bands.

In spring 2011, Tau Beta Sigma awarded Tracz the prestigious Paula Crider Outstanding Director Award. He also is a faculty member of Conn-Selmer Institute, as well as a past member of the Music Education Journal Editorial Board and is a contributor to the series Teaching Music Through Performance in Band.