November 10, 2011
Experience 'Babette's Feast' and food inspired by the film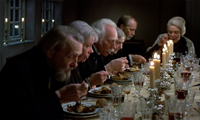 Kansas State University's Marianna Kistler Beach Museum of Art and the student organization Professional Convention Management Association invite you to view a foreign film then experience food inspired by the film.
The Friends of the Beach Museum of Art present "Babette's Feast" at 3:30 p.m. Sunday. The film is free, but reservations are recommended, as space is limited.
Immediately after the film, enjoy a beverage and food tasting event inspired by the film and prepared by the K-State Professional Convention Management Association. Tastings of wine and nonalcoholic beverages for those under 21 will be paired with hors d'oeuvres inspired by French cuisine. Tickets are $10 per person. Space is limited and reservations are required by Friday at noon.
"Babette's Feast," a Danish film, won the 1987 Academy Award for Best Foreign Film and is based on the story by Isak Dinesen (Karen Blixen), who also wrote the story, which inspired the 1985 Academy Award winning film "Out of Africa."
In the film, Philippa (Hanne Stensgaard) and Martina (Vibeke Hastrup) turn down the chance to leave their Danish town in the late 18th century, instead staying to care for their pastor father and his small church. Thirty-five years later, a French woman (Stéphane Audran) seeks refuge, and Philippa and Martina (now Bodil Kjer and Birgitte Federspie) take her in. The feast the woman prepares in gratitude is eclipsed only by her secret. Rated G.
Call or email Ladonna Piper at 785-532-7718 or ladonnap@k-state.edu to make reservations for either or both events.
Memberships to the Friends of the Beach, normally beginning at $40, will be offered at $5 off if you join at the event.
The Beach Museum of Art is on the southeast corner of the K-State campus at 14th Street and Anderson Avenue. Free visitor parking is available next to the building. Normal museum hours are 10 a.m. to 5 p.m. Tuesday-Saturday, and noon to 5 p.m. Sundays. The museum is closed Mondays. For more information, call 785-532-7718.