March 31, 2023
LGBTQ* Faculty and Staff Alliance celebrates Trans Day of Visibility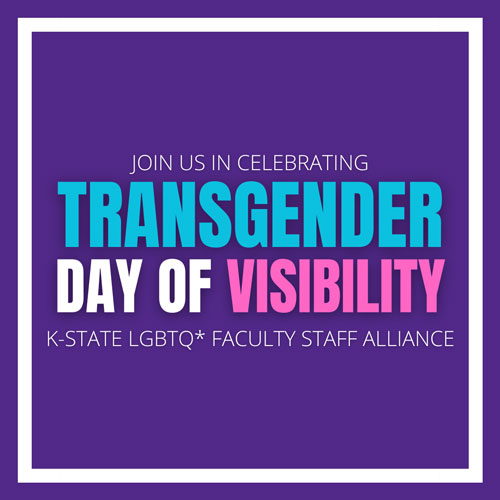 The K-State LGBTQ* Faculty and Staff Alliance invites the K-State community to join them in recognizing and celebrating Transgender Day of Visibility. Transgender Day of Visibility occurs each year on March 31 and is a day dedicated to celebrating the accomplishments of transgender and gender-nonconforming people, while raising awareness of the work that still needs to be done to achieve trans justice.
We encourage the K-State community to participate in this work by utilizing some of the suggestions below:
Dedicate time to learn about trans history and people. Learn something new about the trans/gender non-binary communities and share what you learn with someone else.
Write your political representatives to share what they can do to make sure trans people are positively included and protected in legislation.
Volunteer your time or donate money to a trans-focused organization. Many organizations work to provide access to gender-affirming care or other life-changing resources.
Call or connect with a trans or gender non-binary person in your life to tell you how much you value them.
Share your advocacy by speaking up at work, with your friends and family, and through your social media pages today and every day.
If you are a student, consider enrolling in courses offered by the Social Transformation Studies department; they offer a wide variety of courses to learn about gender identity, expression and history.
Connect with the K-State LGBT Resource Center in 207 Holton Hall to be connected with the many resources, scholarships and educational opportunities they offer for everyone on campus.
Donate to the KSU Foundation and earmark your donation for transgender diversity and inclusion efforts, the LGBT Resource Center, the Queer Studies minor, a scholarship for transgender students or the creation of a transgender-affirming student living space on campus.
To our transgender and gender nonconforming students, faculty and staff: The LGBTQ* Faculty Staff Alliance and its members are proud to celebrate this day on our campus. Please know that you matter, that you are supported and that things will get better. While there is still work to be done, we are excited to be a part of that progress on our campus and do so alongside you. Happy Transgender Day of Visibility.
If you are interested in joining the LGBTQ* FSA, please contact one of our co-chairs; Adam Carr, arcarr@k-state.edu Rachel Levitt, levitt@k-state.edu, and Mariya Vaughan, mbjv@k-state.edu.