17th Annual K-State Drag Show
Strap in, blast off and kick up your heels for a virtual romp in space at the annual K-State Drag Show! TONIGHT Friday, April 23, streaming live from http://kstateupc.com.
More info at http://bit.ly/3dYUPw8#DragShow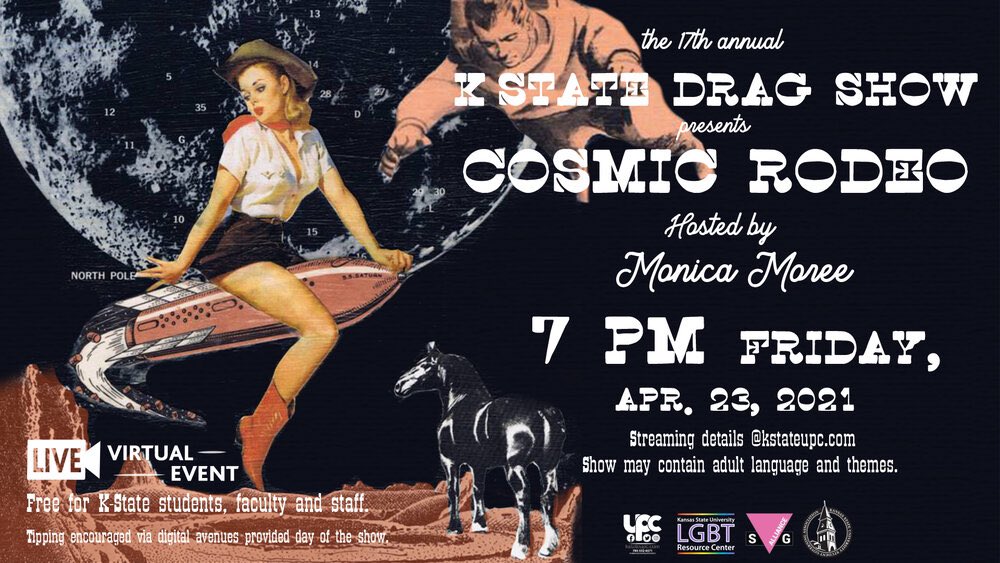 Connect with Us This Spring!
The LGBT Resource Center is excited to announce our in-person Office Hours on Tuesdays & Thursdays from 9:00am-5:00pm and Mon/Wed/Fri from 1:00pm-5:00pm. (Social distancing and mask wearing still required) Please contact Dr. Haddock for any questions or to meet virtually.
Connect With Us:
Phone: 785-532-5352
Email:
lgbt@k-state.edu
Dr. Haddock:
bhaddock@k-state.edu
Dr. Bolton:
dbolton@k-state.edu
LGBT CENTER ANNOUNCEMENTS:
We're Hiring! Graduate Assistant Position Open
The LGBT Resource Center is seeking applicants for our Graduate Assistant position. If you know of a graduate student interested in an assistantship, please direct them to connect with our office.
(Application Link Coming Soon!)
The Big 12 LGBTQIA and Allies Summit was hosted online on Feb. 26-27 by Texas Tech University.
We Joined Instagram & Twitter:
Follow our NEW K-State LGBT Resource Center Instagram & Twitter accounts!
K-State Adds Chosen Name Policy:
Kansas State University has added a chosen name policy! (PPM Chapter 3077)