March 31, 2023
Heinz Feldmann presents CEZID/CBID Seminar today
Submitted by Christine Huncovsky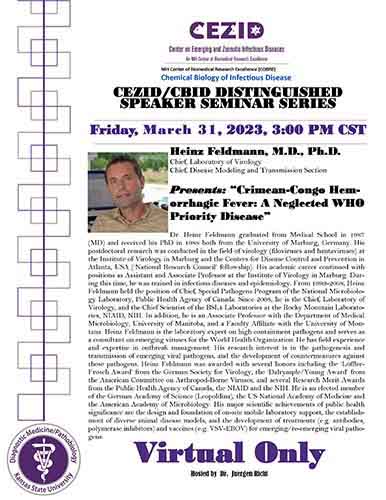 The COBRE Center on Emerging and Zoonotic Infectious Diseases, or CEZID, hosts Heinz Feldmann in today's CEZID Distinguished Speaker Seminar Series at 3 p.m. via Zoom.
Feldmann will present "Crimean-Congo Hemorrhagic Fever: A Neglected WHO Priority Disease."
Feldman graduated from medical school in 1987 and received his doctorate in 1988 from the University of Marburg, Germany. His postdoctoral research was conducted in the field of virology at the Institute of Virology in Marburg and the Centers for Disease Control and Prevention in Atlanta as a National Research Council fellow. His academic career continued with assistant and associate professor positions at the Institute of Virology in Marburg. During this time, he was trained in infectious diseases and epidemiology. From 1999-2008, Feldmann held the position of chief in the special pathogens program of the National Microbiology Laboratory, Public Health Agency of Canada.
He is currently the chief of Laboratory of Virology and the chief scientist of the BSL-4 labs at the Rocky Mountain Laboratories of the National Institute of Allergy and Infectious Diseases, National Institutes of Health. In addition, he is an associate professor with the department of medical microbiology at the University of Manitoba and a faculty affiliate with the University of Montana. Feldmann is the laboratory expert on high-containment pathogens and is a consultant on emerging viruses for the World Health Organization.
Feldmann has field experience and expertise in outbreak management. His research interest is in the pathogenesis and transmission of emerging viral pathogens and the development of countermeasures against those pathogens. His major scientific achievements of public health significance are the design and foundation of on-site mobile laboratory support, the establishment of diverse animal disease models and the development of treatments and vaccines for emerging/re-emerging viral pathogens.
The CEZID seminar series is organized within the diagnostic medicine and pathobiology department in the College of Veterinary Medicine and is hosted by CEZID director, Juergen Richt.