March 6, 2023
Regnier Distinguished Visiting Professorship lecture March 9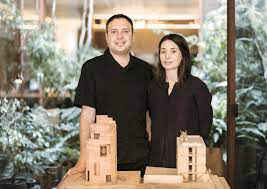 The College of Architecture, Planning & Design at Kansas State University will present the lecture "Built Work" by Estudio Macías Peredo, the 2022-2023 Victor L. Regnier Distinguished Visiting Professorship on Thursday, March 9 at 4:30pm in Regnier Forum, 1118 Regnier Hall.

The lecture is free and open to the public.
Estudio Macías Peredo has offered various conferences on his professional practice in different universities and forums both in Mexico and abroad, including Columbia University, the University of New Mexico, the University of Texas at Arlington, the University of Washington, Rice University, the University of Tokyo, the Pontificia Universidad Católica de Chile and the Peruvian University of Applied Sciences. Peredo also spoke at the 2018 Bogotá International Art Fair, AbrA Architecture, the Pan-American Architecture Biennial of Quito, the College of Architects of Brasilia and the College of Architects of Mendoza.
In addition to professional practice, Peredo coordinates the Jardín 17 architecture exhibition space at Casa Estudio Luis Barragán in Mexico City.
The Victor L. Regnier Distinguished Visiting Professorship, established in 2003 by the V & H Charitable Foundation, enriches design education by exposing students to internationally renowned practicing architects from around the world. The visiting professors co-teach fifth-year architecture graduate design studios with support from a Kansas State University architecture faculty member. They share cultural patterns, urban issues and unique regional considerations through seminar presentations and critical discourse linking theory with practice. Public lectures at K-State and in Kansas City feature their creative work and insights with a broader audience.