February 27, 2023
Hormel Foods CEO to speak at College of Business as part of Distinguished Lecture Series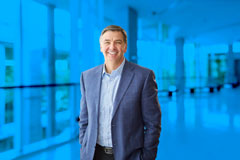 The next speaker in the College of Business Distinguished Lecture Series is Jim Snee, chairman of the board, president and chief executive officer of Hormel Foods. Snee will speak from 3:30-4:30 p.m. Monday, March 6, in the Western Ag Resources Lecture Hall, 1088 Business Building.
As only the 10th president and chief executive officer in the company's history, Snee has led the continuing evolution of Hormel Foods to a global branded food company and its growing reputation as an award-winning corporate citizen by focusing on the food the company makes and the difference it makes in the world. Under his leadership, the company has been named on the Global 2000 World's Best Employers list by Forbes magazine for three straight years, named one of the world's most admired companies by Fortune magazine, has appeared on Corporate Responsibility Magazine's The 100 Best Corporate Citizens list 13 times and was named one of America's most responsible companies by Newsweek, among others. In 2022, Snee was named the 2022 Responsible CEO of the Year for transformative leadership by 3BL Media.
Snee's career with Hormel Foods spans more than a quarter century. He joined the company in 1989 and assumed roles of increasing responsibility throughout its divisions and at the company's global headquarters. Snee was named vice president of affiliated business units in 2008, and in 2011 he advanced to president of Hormel Foods International, overseeing the company's growing global portfolio. He was named president and chief operating officer of Hormel Foods in October 2015 and chief executive officer in October 2016. He was elected chairman of the board in October 2017.
Snee is active in numerous industry and nonprofit boards and organizations, including the Republic Services board of directors and the executive board for the Thielen Foundation.
Snee earned a bachelor's degree in marketing from New Mexico State University and a master's degree in business administration from the University of St. Thomas. He has also participated in Harvard Business School's executive leadership and management programs.
Sponsored by Commerce Bank and The William T. Kemper Foundation, the Kansas State University College of Business Distinguished Lecture Series provides insight that links academic theory to applied business practice. The lectures are designed to enhance the learning experience and assist student success in the classroom today and prepare students to thrive as business leaders tomorrow.
Visit the distinguished speakers website to learn more about the College of Business Distinguished Lecture Series.