March 6, 2023
Phi Zeta Research Day features 30-year reunion with food animal expert, former intern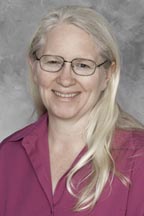 The College of Veterinary Medicine and Sigma Chapter of the Phi Zeta Veterinary Honors Society invites the university community to attend its annual research day from noon to 5:30 p.m. Tuesday, March 7.
The event starts with the Kenneth D. Olson Lectureship, featuring a keynote address at noon by Amelia Woolums, the Mikell and Mary Cheek Hall Davis endowed professor of beef cattle health and reproduction in the Department of Pathobiology and Population Medicine at Mississippi State University. The title of her lecture is "The Host Response in Bovine Respiratory Disease: What Do We Know."
Woolums researches the host response in bovine respiratory disease, vaccination to prevent the disease and immunity in cattle and calves. She received her Doctor of Veterinary Medicine degree in 1988 from Purdue University. She then completed an internship at Kansas State University, a residency at the University of Saskatchewan and a doctorate at the University of California, Davis, where she studied the immune response to bovine respiratory syncytial virus infection.
"Dr. Woolums is a fantastic speaker, so please plan to attend," said Emily Reppert, president of Phi Zeta and associate professor in clinical sciences at K-State. "We are hoping to show Dr. Woolums the biggest K-State welcome. Her talk should be of interest to students in animal sciences and those who are interested in the care of livestock."
After the keynote presentation, Phi Zeta activities will continue with oral abstract presentations by undergraduate, graduate and postgraduate researchers affiliated with the college. The formal poster session and mid-afternoon refreshments will occur from 2:30-3:30 p.m. Evening refreshments will be served at 5 p.m., followed by a recognition and awards ceremony.
Phi Zeta Research Day is an opportunity to meet with researchers and gain insight into the breadth and impact of the research taking place at the College of Veterinary Medicine.
Read more information and see a schedule of events on the Sigma Chapter of Phi Zeta Research Day website.