May 12, 2022
Economics department recognizes outstanding undergraduate students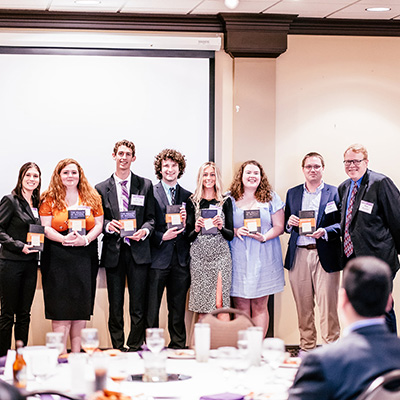 The economics department recognized the outstanding accomplishments of its faculty, graduate students and undergraduate students at its recent awards banquet. This event was April 22 at the Manhattan Country Club and featured a talk from Narynana Kochlerakota, former president of the Minneapolis Federal Reserve Central Bank.
The department recognized the following outstanding graduating seniors at this event: Noah Enders, Annaleigh Hobbs, Grace Hutchinson, Daniel Siemers, Jessica Smith, Ben Theoni, Jade Tonjes and Levi Van Hoecke.
These students received a personalized copy of "The Wealth of Nations."
The department is excited to be awarding scholarships to each of the following students for the Fall 2022 semester and would like to thank the generous donors for making these awards possible:
Liam Aumann, Connor Austin, Cole Baker, Blythe Bolar, Sadie Brownfield, Alex Brock, Shayla Cowin, Manon Donch-Gay, Nick Dusin, Parker Dyro, Malik, Freese, Peyton Fromme, Karter Granzella, Jodi Hendon, Erasto Herrera-Farafan, Abby Hisel, Jacob Hofman, Madison Hunter, Ellie Johnson, Halley Jones, Adam Lenartowicz, Brock O'Malley, Michelle Olberding, Alyssa Pemberton, Sydney Rehagen, Suzanne Roggenkamp, Abagail Ruder, Josh Russell, Chipo Sekabanja, Carrington Thom, Emily Thornton, Grant Weishar, Judy Wiebe and Noah Younger.