November 3, 2021
Join Indian Students Association for Festival of Lights and potluck dinner
Submitted by Indian Students Association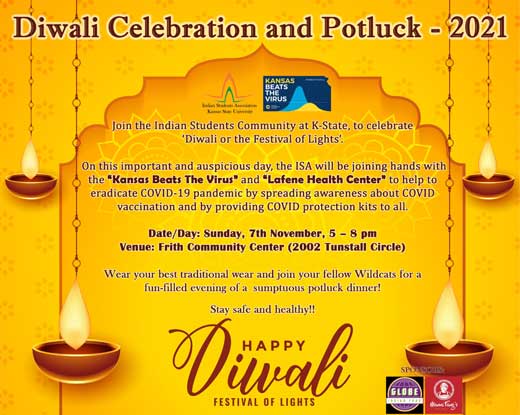 On behalf of the Indian students community at K-State, we invite you to celebrate the Diwali or the Festival of Lights with all of us from 5-8 p.m. Sunday, Nov. 7, at the Frith Community Center, 2002 Tunstall Circle in Manhattan.
Diwali is a celebration of the triumph of good over evil. Traditionally, the celebration involves fireworks but we are requesting participants to light clay/LED/tealight lamps to represent the significance of Diwali.
On this important and auspicious day, the Indian Students Association, a registered independent student organization, will join with Kansas Beats the Virus to help eradicate the COVID-19 pandemic by spreading awareness about COVID-19 vaccination and giving COVID-19 protection kits to all the participants. As you all know, together we can fight and defeat COVID-19 darkness and welcome new lights/new hope in our lives.
This fun-filled night is followed by a potluck dinner, where an Indian feast from diverse tradition and culture will be served.
Please join hands with us to make this festival of lights memorable for each and everyone during this pandemic.
Stay safe and healthy.