November 3, 2021
Jani selected to serve on IIDA Equity Council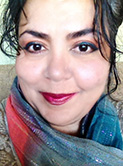 Vibhavari Jani, associate professor of interior architecture & industrial design at the College of Architecture, Planning & Design, was selected by the International Interior Design Association, or IIDA, to serve as a representative on the prestigious IIDA Equity Council.
The council serves to produce, develop and provide guidance in commitment to anti-racist and anti-bias policies, goals and objectives to promote diversity, equity and inclusion. In this role, members are charged with being change-makers for equity, diversity and inclusion within the interior design industry.
A 2013 Rotary peace fellow, Jani, a native of Ahmedabad, India, was trained as an architect, interior designer, painter, singer and dancer. She earned a bachelor's degree in architecture from CEPT University, Ahmedabad, India and a master's degree in interior architecture from Wayne State University, Detroit, Michigan.
With more than 22 years of practice in the United States, she has served the architecture and interior design industry in executive and administrative capacities, designed and managed large — $100-plus million projects — for major corporations, health care, education, government and hospitality clients.
As an academic, she enjoys working with students and engages them in creative, interdisciplinary, collaborative, service-learning projects. Her research efforts, conference presentations and publications have addressed a broad range of issues including the contribution of non-Western cultures in the field of architecture and design, influence of collaborative efforts in architecture and interior design education, sustainability and green design, and the influence of new technology and how it is impacting the interior design curricula.
Jani was awarded Kansas Campus Compact Engaged Faculty Fellowship and the Big 12 Faculty Fellowship in 2012. She is also a Tiford Fellow.
Founded in 1994 as the result of a merger with the Institute of Business Designer, the International Society of Interior Designers and the Council of Federal Interior Designers, IIDA is the commercial interior design association with global reach. The council supports design professionals, industry affiliates, educators, students, firms and its clients through their network of more than 15,000 members across 58 countries.