November 3, 2021
K-State Launch awards $10,000 in cash and scholarships to student entrepreneurs
A Kansas State University competition has awarded 20 student business ideas with a total of $10,000 in scholarships and cash.
The K-State Launch competition gives students experience in the process of pitching a business proposal. The competition is organized by the Center for the Advancement of Entrepreneurship in the College of Business and is open to all students and majors in the university. More than 550 student teams entered the competition this year by submitting a three-minute video pitch, which was used to narrow the field to 20 finalists, who were each awarded a $200 scholarship.
The finalists then each had the opportunity to deliver a business pitch to a panel of judges that consisted of local entrepreneurs and industry experts, which had $6,000 in prize money to distribute to the ideas and entrepreneurs they felt showed the most promise.
"I am extremely proud of our student competitors who showcased the entrepreneurial spirit and impressed both judges and faculty with the quality of their ideas," said Jake Duke, teaching assistant professor of management.
The awards are as follows:
First place — Cee Swanson, CyLens: $1,500 cash and $1,500 scholarship for next entrepreneurship course.
Second place — Tyler Bolz, Data Souce: $1,000 cash and $1,000 scholarship for next entrepreneurship course.
Third place — Nick Jackson, RMS: $500 cash and $500 scholarship for next entrepreneurship course.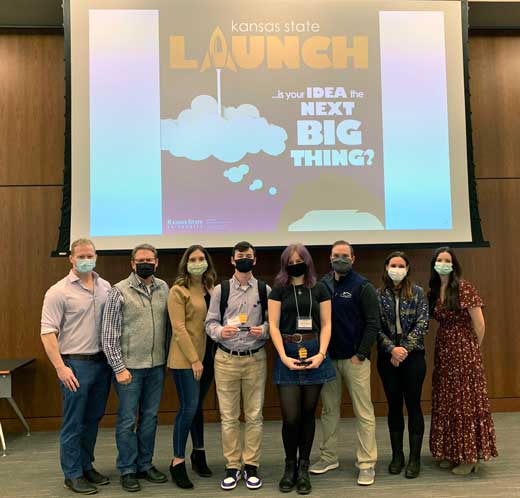 From left: Jake Duke, teaching assistant professor, management; Dave Dreiling, owner and chief executive officer at HCI Hospitality; Abbey Brown, owner and managing director at the Brownstone Wedding and Event Venue; Nick Jackson, third place award winner; Cee Swanson, first place award winner; Chris Fox, owner and director of design and sales at Fox Home Innovations; Jessa Voos, founder and owner at Chapter 5 Yoga; Chelsea Werdel, management department graduate assistant. Not pictured: Tyler Bolz, second place award winner.