October 27, 2021
K-State Theatre opens 'Frankenstein' at 7:30 p.m. Thursday, Oct. 28
Submitted by Jerry Jay Cranford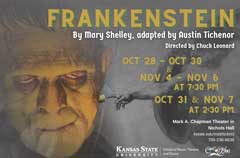 On Thursday, Oct. 28, through Sunday, Nov. 7, K-State Theatre will perform Austin Tichenor's adaptation of Mary Shelley's "Frankenstein" live in the Chapman Theatre in Nichols Hall.
Originally written as part of a ghost story competition that she won, Shelley, 1797-1851, wrote "Frankenstein" in 1816 at the age of 18. With the first stage adaptation written in 1823, the countless film and stage versions, parodies, musicals and modern interpretations have often altered the source material. Tichenor's adaptation attempts to be more faithful to Shelley's original themes, characters and mood.
Before the Friday, Oct. 29, performance, the K-State English department will present four 10-minute lightning lectures beginning at 6:30 p.m. in 127 Nichols Hall. The featured topics:
Mark Crosby, associate professor: The Ghost Story Competition.
Spencer Young, graduate student: The Climatological Frankenstein.
Shirley Tung, associate professor: The Feminist Origins of Frankenstein.
Gabrielle Coffey, graduate student: Frankenstein as Body Horror.
The production is directed by Professor Chuck Leonard, scenic design by Professor Kathy Voecks, costume design by Professor Dana Pinkston, sound design by senior Chris Reardon, lighting design by Professor James Davis, technical direction by Professor Ben Stark and stage managed by theatre student Logan Peralez.
The cast:
Jackson Wilks as Victor Frankenstein.
Matthew Rosebrook as The Creature.
Donovan Watts as Henry Clerval.
Ann Stegman as Elizabeth Lavenza.
Bryce Taylor as Alphonse Frankenstein.
Audrey Burgoon as Willa Frankenstein.
Rita Claire Turner as Justine Moritz.
J.T. Czoch as Gustav.
Ryan Teer as Captain Robert Walton.
Jackson Berland as Lookout.
Morgan Boyer as Grave Digger.
Rachel Kuenzi as the Countess.