November 13, 2020
World-renowned international higher education expert to deliver Vernon Larson Lecture Nov. 16
Submitted by Office Of International Programs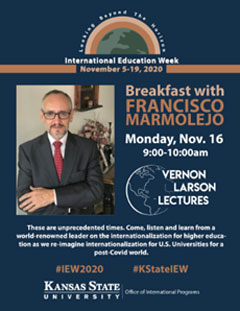 Francisco J. Marmolejo, world-renowned international higher education expert, will deliver the 2020 Vernon Larson Lecture as part of International Education Week.
Marmolejo will present "Reimagining International Programs" from 9-10 a.m. Monday, Nov. 16. Marmolejo will challenge our notions of international programs at universities. This fits well with the International Education Week 2020 theme, "Looking Beyond the Horizon — re-imagining international programs at Kansas State."
Marmolejo is the education advisor of the Qatar Foundation. Before his current position, he held positions with the World Bank as the lead higher education specialist for India and South Asia, based in New Delhi, India, and as the higher education global coordinator, based in Washington, D.C. Marmolejo served as the founding executive director of the Consortium for North American Higher Education Collaboration from 1995-2002.
Vernon Carl Larson was an international visionary who built K-State's International Agriculture Programs through projects in Nigeria, India, the Philippines and elsewhere throughout the world. He then led the Office of International Programs through 25 plus years of successful growth and expansion.
"The Larson Lecture Series is the longest continuous running lecture series at Kansas State" said Grant Chapman, associate provost for international programs. "Vernon Larson built the international agricultural programs and founded the general international programs advancing internationalization at Kansas State. Vernon Larson was community and civic minded sharing the world with Manhattan, Kansas and K-State and Manhattan with the world."
Please register for the webinar event. After registering, you will receive a confirmation email containing information about joining the webinar.
View the full International Education Week 2020 schedule of events.