November 13, 2020
Porath receives college's Kathryn A. Holen Service Award for superior accomplishments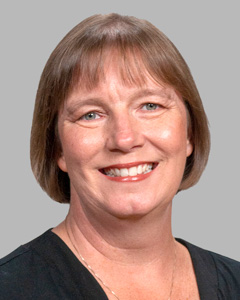 Suzanne Porath, College of Education assistant professor of curriculum and instruction, joins a distinguished group of faculty as the 2020 recipient of the Kathryn A. Holen Excellence in Service Award.
Porath was nominated by College of Education research associate LouAnn Getz for her work supporting educators' professional learning at the local, state and national levels.
Service is a critical component of the teaching profession, and this award honors superior efforts and accomplishments.
"As (Lev S.) Vygotsky stated, we become ourselves through others," Porath said. "My life's mission is to support all people in being and becoming the best they can be. For educators, this means developing personal learning goals, valuing and sharing their expertise with others and learning together."
Porath is currently facilitating an action research group with Manhattan-Ogden USD 383 with support from a K-Link grant. Their research has been presented at the College of Education's Research and Creative Activities Fair, and many teacher-researchers have also presented at national conferences and published their findings in peer-reviewed journals.
Committed to research, Porath serves as editor of Networks: An Online Journal for Teacher Research.
Another of her passions is the #CoffeEdu meetings — 60-minute, informal professional learning opportunities that bring together educators in various roles and disciplines to share teaching practices.
Porath has introduced and facilitated these meetings in both face-to-face venues and virtually for local educators and for the National Association of Professional Development Schools. She authored an open-access article about #CoffEdu meetings in the e-book "Teaching, Technology, and Teacher Education during the COVID-19 Pandemic: Stories from the Field."
Porath also serves as the advisor for K-State's Kansas National Educators Association-Aspiring Educators chapter, which develops leadership skills in pre-service teachers, organizes professional learning events for aspiring educators and works in the community to support education.
A literacy educator, Porath serves on the boards of Kansas Association of Teachers of English and the Kansas Association of Literacy Professionals in Higher Education. In addition, she has served on multiple higher education program reviews with the Kansas State Department of Education and on the National Alliance for Direct Support Professionals.