November 13, 2020
Thank you: University giving employees week off with pay
Submitted by Richard Myers and Chuck Taber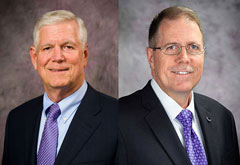 Dear Colleagues,

As the fall semester heads into the final stretch, we'd like to thank you all for your dedication and hard work to serve our students and make this semester possible. As K-Staters do when faced with a challenge, you have gone above and beyond. Your efforts during these challenging and unprecedented times have ensured K-State fulfills its land-grant mission to foster excellent teaching, research and service.

To recognize and show our appreciation for all you have done, we are offering employees the week of Dec. 26-Jan. 2, 2021, off — with pay. This means that this year employees are not required to take leave while our campuses are in reduced operations between Christmas and New Year's holidays. If you are unable to take that week off because of work responsibilities during that time, you can take the week before, Dec. 20-26, off with pay.

Please note that unlike accrued vacation, these hours can't be saved or banked for use at another time.

Nine-month employees who do not accrue leave, such as some faculty members, will have their pay continue as planned. Some will be excluded, including employees who are either on 100% furlough or who chose to take their furlough days during the holiday closure period, temporary employees, as well as student employees, such as those involved with the care and feeding of animals. If student employees are scheduled to work during this period, they must work in order to be paid.

Employees who are exempt will not need to report anything in Kronos or other time-keeping systems. They will be paid as usual for the week.

Non-exempt, or hourly, employees would report administrative leave using the same code we used when we offered administrative leave in the spring.

If you have any questions, including whether you qualify for a week off with pay, please talk to your supervisor.

Again, thank you for your commitment and unwavering support to our students and to carrying out all facets of the K-State mission in this challenging time.
Sincerely,

Richard B. Myers
President

Chuck Taber
Provost and executive vice president