November 13, 2020
Listen now to 'One Dead; One Dying' on the 'Kansas Theatre Works' podcast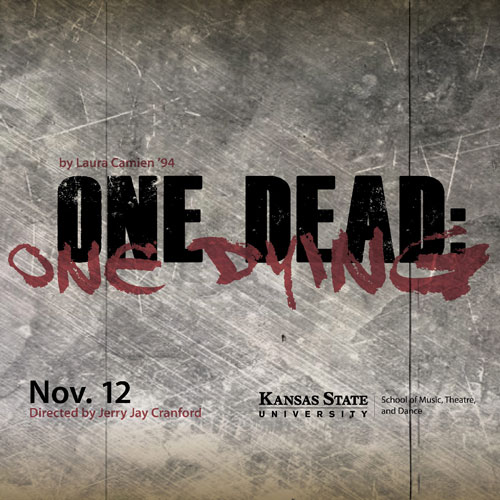 "One Dead; One Dying" is now available for listening and download on the "Kansas Theatre Works" podcast.
Originally a screenplay written by '94 K-State alumna Laura Camien, "One Dead; One Dying" has been adapted to the audio play format and was directed by associate professor Jerry Jay Cranford. It is a bloody story that explores the crime-filled lives of Harry and Jennings Young, culminating in the Young Brothers Massacre in Springfield, Missouri, on Jan. 2, 1932. This massacre, although the deadliest single law enforcement gunfight of the 20th century, is considered to be a forgotten crime outshadowed by other highly publicized crimes of the "Public Enemy Era" of the early 1930s. This tragedy resulted in the reshaping of national procedures regarding the approach and capture of known criminals.
Check out other episodes including "Macbeth," "Tales of the Weird and Unusual" and a bonus interview of Camien and Cranford hosted by Brett Boline, a senior in architecture and theatre.
For Thanksgiving Day, the "Kansas Theatre Works" podcast will release a "Gratitude Episode" featuring messages from community members free of charge. To send a recorded message of gratitude to a family member, friend or local business, please record a voice memo — 20 seconds or less — and email it to theater@k-state.edu with the subject line "GRATITUDE." Please send by Nov. 20.
Listen to "Kansas Theatre Works" podcast episodes for free on all podcast platforms, including Apple Podcasts, Google Podcasts, Spotify or by visiting the website.
For more information about the performing arts at K-State, including concerts, performances and special events, visit the School of Music, Theatre, and Dance website. The school is a part of the College of Arts and Sciences.