May 7, 2020
Cats' Cupboard is here for you
Submitted by Communications and Marketing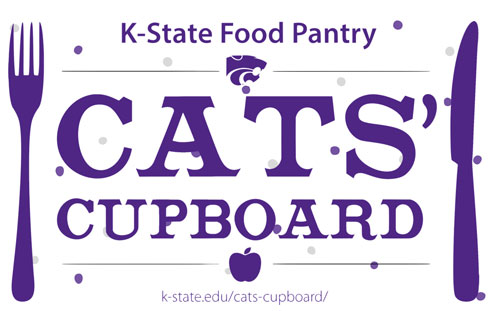 During these uncertain times, Cats' Cupboard food pantry is available to serve faculty, staff and students. All K-Staters may access the nonperishable food items in the pantry at their discretion.
To mitigate the spread of COVID-19, Cats' Cupboard has moved to an online order system only and is not open for drop-in visits at this time. K-State students and employees can place one order per week. Orders submitted by Tuesdays at midnight are available for pick up from 9 a.m. to 4 p.m. Thursdays outside the east entrance of Fairchild Hall. K-Staters should come to the building and call 785-532-0366 and your order will be brought outside and placed on the pallet by the door.
Other resources for K-Staters include:
If you have questions, contact Cats' Cupboard at 785-532-0366 or catscupboard@k-state.edu.