May 7, 2020
President Myers receives national award for service, patriotism
Submitted by Communications and Marketing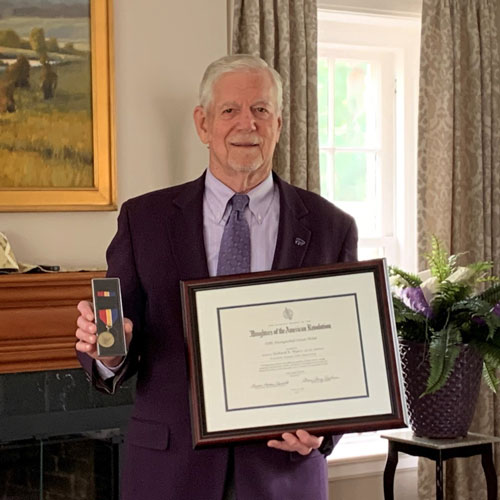 Kansas State University President Richard B. Myers is the recipient of the DAR Distinguished Citizen Medal from the Polly Ogden Chapter of the National Society of the Daughters of the American Revolution. The national award is presented to an individual who fulfills the qualities of honor, service, courage, leadership and patriotism.
Myers' distinguished career has revolved around service. He has served his country in wartime, his nation in crisis, and the future leaders of his community and nation through his role in higher education.
A four-star general in the U.S. Air Force, Myers served as the 15th chairman of the Joint Chiefs of Staff from 2001-2005. As chairman, he was the highest-ranking uniformed officer of the U.S. military forces. Before becoming chairman, Myers served as vice chair of the Joint Chiefs for 18 months.
As chair, he was the principal military advisor to the president, secretary of defense and the National Security Council during the earliest stages of the War on Terror, including planning and execution of the 2003 invasion of Iraq. Myers is the author of "Eyes on the Horizon: Serving on the Front Lines of National Security."
A native Kansan, Myers began serving as the interim president of his alma mater, Kansas State University, in April 2016, and was announced as the permanent president on Nov. 15, 2016. He graduated from the university in 1965 with a bachelor's degree in mechanical engineering and joined the Air Force through K-State's ROTC program.