October 2, 2019
Herrera inspires national organization's biography-themed publication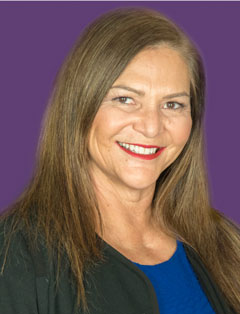 A College of Education faculty member who has devoted her career to English language learners was recently informed her research inspired a national organization to devote a special edition scholarly publication to the method she pioneered: Biography-Driven Instruction, or BDI.
Socorro G. Herrera, professor and director of the Center for Intercultural and Multilingual Advocacy, received a letter stating the English Journal, a bi-monthly publication of the National Council of Teachers of English, had published the BDI-themed edition earlier this year.
Debbie Mercer, dean of the College of Education, believes Herrera's research can be applied in any classroom and is excited that English teachers across the country can see how BDI can impact student achievement because of this publication.
"The impact of Socorro's impressive body of work continues to grow – even outside of her content area – which is a testament to the universality and value of her research."
In their column, English Journal editors Toby Emert, professor and department chair at Agnes Scott College, and R. Joseph Rodriguez, assistant professor at California State University, wrote: "If we intentionally integrate students' biographies into the units, lessons and assignments we create, we may, as Socorro G. Herrera advocates, be using an instructional key that unlocks their capacity to connect with and thrive in the English classroom."
Herrera said learning of the special edition filled her with joy. She was especially excited that the publication is for middle school and high school English teachers and her BDI methodology will reach so many educators.
"For me, English teachers are the gatekeepers to the creative soul of every human being," Herrera said. "Teachers can either silence or lift the voice of every child. That said, writing is not just about self-expression. It's understanding that writing requires the highest level of cognition and leads to rigor in classroom practice."
Herrera is happy for students that the connection between biography and learning is being embraced beyond the English as a second language, or ESL, community.
"For 20 years, the center has focused on conducting and publishing research that seeks to demonstrate that a student's biography is front and center in teaching in order to achieve an equitable learning space."
Herrera has authored 10 books, 16 book chapters, authored or co-authored 28 refereed journal articles and made nearly 200 presentations. She has developed international collaborations with Mexico, Ecuador, Guatemala and Saudi Arabia, and secured more than $52 million in external funding from state, federal and international sources.