October 2, 2019
Student showcased clothing collection at Kansas City Fashion Week
Submitted by College of Health and Human Sciences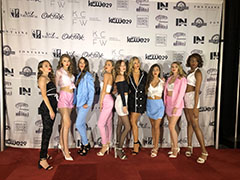 Gracie Key, junior in apparel and textiles, Louisburg, debuted her design collection, The Kennedy Collection, during Kansas City Fashion Week Sept. 15-21 at Union Station in Kansas City.
Each season, fashion week gives students from across the nation an opportunity to showcase their own collections on the runway.
"I am so grateful to have gotten the opportunity to participate in KCFW," Key said. "Through this journey, I have been able to meet so many new people and experience a new and exciting perspective of the fashion industry. I have learned a lot by being a leader and exercising my creative process. Overall, fashion week has been a great learning experience and something that I look forward to participating in again."
Key has been designing and constructing clothes from a young age and aspires to continue her work throughout her life. Her brand, GK Designs, is a women's wear designer brand that is sustainable and also affordable. The mission of her brand is to help young women discover the power of confidence through fashion. Being a young designer, she understands the struggle of keeping a positive body image in today's society and feels fashion is a great way for people to express themselves. She wants to help consumers find empowerment in their clothing choices, rather than basic trends.
The featured collection, The Kennedy Collection, is a modern take on vintage fashion.
"My inspiration came from Jackie Kennedy Onassis," Key said. "Not only was she a fashion icon, but she also was known to carry herself with grace and elegance wherever she went, and that is exactly the kind of confidence I want to give young women. Onassis' quote 'Once you can express yourself, you can tell the world what you want from it' was a huge inspiration to me and perfectly embodies the meaning behind my collection."
Key's apparel can be found on her Instagram, @graciekey.designs.
Also selected to showcase a collection was 2017 apparel and textiles graduate, Annabelle Frese.
As a designer, Frese is inspired by history and cultures and strives to design garments that express a muted uniqueness and high-end individuality. She aims to take classic and historic silhouettes and add her modern twist to generate new styles. Frese is currently an independent designer for her own brand, Fashion AF, which creates custom garments for a variety of events.
KCFW and the K-State apparel and textiles program have a great relationship, with many students having received the opportunity to showcase their work during the event. Teisha Barber, president of KCFW, has praised the apparel and textiles program with producing good quality work and students who are extremely professional.
For more information on Kansas City Fashion Week, visit kcfashionweek.com.