September 13, 2019
Strengths initiative selects new student peer coaches
Submitted by Strengths Student Program Developer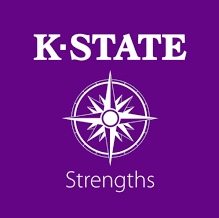 The K-State CliftonStrengths initiative, housed in the Staley School of Leadership Studies, has selected four student peer coaches for the 2019-2020 school year.
The peer coaches are Lauren Yoksh, sophomore in statistics and data science, Olathe; Caroline Brock, junior in organizational communications, Topeka; Michaela Fullerton, sophomore in marketing, Westminster, Colorado; and Ayana Belk, junior in landscape architecture, Kansas City, Missouri.
The Strengths initiative focuses on student well-being and engagement. The coaches will work one-on-one with students who are curious about the results of their Strengths assessment and help these students understand and apply their results.
The CliftonStrengths assessment is a tool of empowerment among students, faculty and staff to help not only identify your top five strengths, but to develop them in meaningful ways that help the campus community.
These four students will work with more 700 students throughout the fall semester to develop their understanding and use of strengths in their daily lives.