September 13, 2019
Graham to open APDesign Ekdahl Lecture Series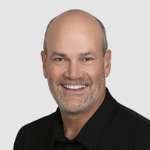 Brian Graham, principal of Graham Designs, San Francisco, will be the first presenter in the 2019-2020 College of Architecture, Planning & Design's Ekdahl Lecture Series at 4:30 p.m. Wednesday, Sept. 18, in the Regnier Forum, Regnier Hall on the K-State Manhattan campus. The event is free and open to the public.
Graham's lecture, "Interior Design: Furniture Design," will explore a deeper understanding of the modern workplace, combined with a respect for history. Graham explains how thinking like an interior designer informs the creation of his new furniture designs. From his start as an interior designer for corporate giant Gensler to an independent furniture designer working for some of the best brands in the industry, Graham uses rich visual images combined with a wry sense of humor to deliver an inspiring design talk. Subjects covered include where his inspiration comes from; the importance he places on establishing mentors in your career; the process he's refined of reading and reacting to evolving workplace trends that informs his development of new products, and much more.
Graham's design solutions have been recognized by the most prestigious organizations in the U.S., including the American Institute of Architects, the Institute of Business Designers, the International Interior Design Association, Chicago Athenaeum Museum of Architecture and Design, the International Facilities Management Association and the Industrial Design Society of America.
"I'm an interior designer who has evolved into a furniture designer, and it informs everything that I do," Graham said. "While it's important to understand the object that I'm designing, it's even more vital to understand how it's going to be used. That's why planning is the foundation of everything that we do."
Best known for elegant case goods and distinctive seating collections, Graham is involved in a wide range of genres, consulting across disciplines and crafting integrated design programs for his clients. Graham received a Bachelor of Fine Arts in interior architecture at California State University, Long Beach, where he also served as an adjunct professor. In 1999, he established the Graham Design Studio in San Francisco to offer a strategic approach to the design, development and marketing of products.
View a full listing of the 2019-2020 Ekdahl Lectures.

The Oscar S. Ekdahl Distinguished Lecture Series in Architecture and Design brings the finest professionals in the design and planning disciplines to APDesign and the K-State community. These individuals are selected to avail faculty, staff, students and regional professionals to the potency of design and planning in addressing the issues we face as a global society. The series honors Oscar Ekdahl who received his Bachelor of Architecture from Kansas State University in 1933 and was a founding partner in Ekdahl, Davis, Depew, Persson Architects PA in Topeka.