September 13, 2019
Team from K-State Polytechnic to be featured on PBS show 'Make48'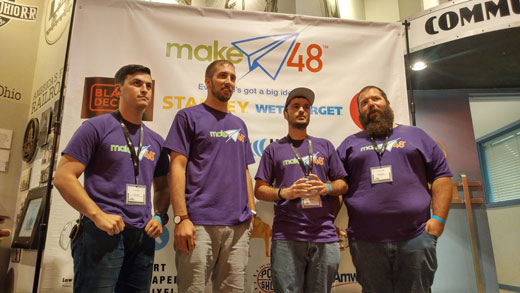 Four recent K-State Polytechnic graduates finished their college careers by participating in the national invention competition "Make48," produced by PBS. The team competed against 11 other colleges to plan, prototype and pitch a new product idea all within 48 hours.
The team, nicknamed WildCreates, included graduates Alec Cork, '18, electronic and computer engineering technology, and Zach Martin, '19, Cory Harvey, '19, and J.T. Brantley, '19, all in mechanical engineering technology. The filmed competition will air on local public television stations across the country. Starting Sept. 14, it will air on KCPT in Kansas City at 2:30 p.m. on Saturdays.
A panel of judges — Tom Gray, "Make48" CEO and senior strategist at The Handy Camel, Jenne Frackelton, senior buyer at QVC, and Jimmy DiResta, maker/YouTube sensation — chose three winning teams, who then worked on getting their products to market.
This is the third season of "Make48" and is the first time the show has featured colleges battling against one another. Along with K-State Polytechnic, the participating schools include Georgetown, Rice, Tulane, University of Nevada-Reno, University of Miami, University of Connecticut, University of Wisconsin-Milwaukee, School of the Art Institute of Chicago, University of Illinois-Champaign, Kansas City Art Institute and Michigan Technological University.
The team's mentor, Dustin Keiswetter '09, an engineering lab technician on campus, competed on the first season with two teammates and their idea, the Whizz Bang, was selected as one of the winning products.
Watch K-State Polytechnic's team introduction for "Make48," or preview the upcoming season.