November 8, 2018
K-State Oz to Oz Fulbright scholar to speak on fostering business ethics
Submitted by Brent Fritzemeier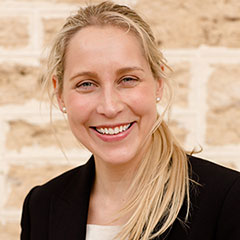 Amy Salapak, a 2018 visiting Fulbright scholar at the Rutgers Business School and Institute for Ethical Leadership, will present "The Need to Foster Business Ethics in Australia" at 4 p.m. Tuesday, Nov. 13, in 1092 College of Business Building.
Salapak is the recipient of a 2018 Australian-American Fulbright Commission Coral Sea Scholarship (Business/Industry). She is using her Fulbright scholarship to explore the role culture, leadership, organizational behavior, legal and regulatory frameworks have in promoting ethical conduct, with a focus on the financial services industry.
A Western Australian based lawyer specializing in litigation, Salapak has more than a decade's legal experience acting for corporate entities, the private sector and government. Currently, she is an in-house lawyer for the Western Australian Department of Health. In this role, Salapak provides specialist legal advice and representation to Australia's largest country health service, the WA Country Health Service.
Salapak's lecture is the culmination of a larger visit to K-State as part of the Oz to Oz program. This program is a unique partnership between K-State and the Australian-American Fulbright Commission. It enriches the experience of senior Australian Fulbright faculty and professionals while they are in the United States and enables K-State faculty, staff and students to build and extend collaborative research activities with their Australian colleagues.
During her time in Manhattan, Salapak will interact with the faculty, staff and students in the department of management and will be hosted by Diane Swanson, professor of management and chair of the Business Ethics Education Initiative. In addition to her public presentation, Salapak also is interviewing K-State faculty for her current research project and working with students in business and pre-health professions.
"The College of Business is excited to welcome someone of Ms. Salapak's caliber here on campus," Swanson said. "Given her career in legal services in Australia, she is uniquely qualified to contribute to multicultural exchanges on campus related to the goals of the Fulbright commission."
The lecture will be open to the public and the College of Business Administration invites faculty, staff and students from the campus community to attend.