September 17, 2018
History professor publishes book on Chisholm Trail and Joseph McCoy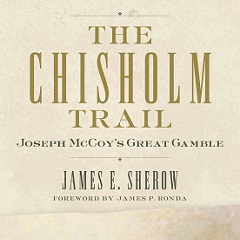 Jim Sherow, university distinguished professor of history, has published a new book, "The Chisholm Trail: Joseph McCoy's Great Gamble."
The book tells the story of a set of brothers who transformed the cattle trade.
One hundred fifty years ago the McCoy brothers of Springfield, Illinois, bet their fortunes on Abilene, Kansas, then just a slapdash way station. Instead of an endless horizon of prairie grasses, they saw a bustling outlet for hundreds of thousands of Texas Longhorns coming up the Chisholm Trail — and the youngest brother, Joseph, saw how a middleman could become wealthy in the process. This is the story of how that gamble paid off, transforming the cattle trade and, with it, the American landscape and diet.
Sherow's sixth book in an impressive career spanning more than 30 years, "The Chisholm Trail: Joseph McCoy's Great Gamble" reflects his research interests of environmental history, Kansas history, North American Indian history, and the history of the American West.
The book is available on Amazon and Walmart.com from the University of Oklahoma Press publishers.
For more information on the book, contact Sherow at jsherow@k-state.edu.