Extramural research funding and invention disclosures set university record in fiscal year 2018
Monday, Sept. 17, 2018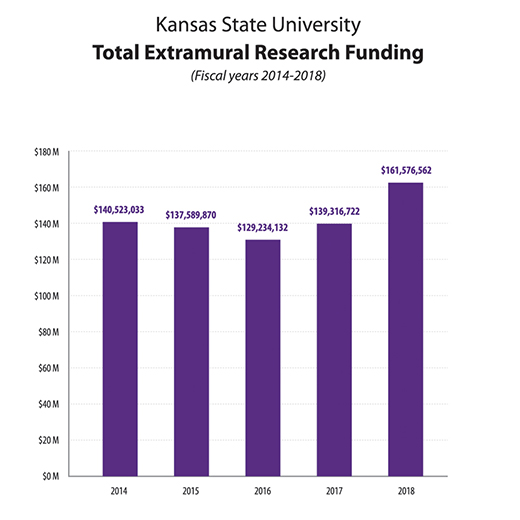 The research funding landscape is more competitive than ever, but Kansas State University researchers garnered a record amount of extramural funding in fiscal year 2018. The total amount of funding for K-State research from federal, state, local and industry sources has increased 25 percent in the last three fiscal years. | Download this graphic as JPG or PDF.


MANHATTAN — Kansas State University researchers just had a record-setting year.

In fiscal year 2018 — from July 1, 2017, through June 30, 2018 — the university's researchers obtained 1,567 grants and industry contracts for a total of $161,576,562 in extramural funding. In the last three years, the funding total has increased 25 percent.

Extramural funds come from federal funding agencies such as the U.S. Department of Agriculture, the National Science Foundation and the National Institutes of Health, as well as state, area, and local governments and private foundations. Industry agreements and philanthropy also provide support for research.

"These figures show how hard our researchers across the university are working to fund their explorations," said Peter Dorhout, Kansas State University vice president for research. "Researchers face stiff competition for these funds. They have to write the best proposals and do the best work to obtain funding, and I'm proud of their achievements."

According to the full report from fiscal year 2018, the university garnered an increasingly diverse portfolio of funding awards. Awards from the NSF increased nearly 59 percent over the previous fiscal year, and awards from HHS, which includes NIH, increased by 34 percent.

Kansas State University also succeeded in attracting industry-funded projects, adding 291 new projects this year.

"We have a reputation as an excellent partner, and we have seen continued growth in both funded projects and master research agreements with companies," Dorhout said.

Master research agreements allow projects to progress quickly when a company identifies research needs. New agreements in fiscal year 2018 included General Mills, Deere and Company, Compass Minerals, Topcon Agriculture, Seaboard Foods, Sensient Technologies, Purina Animal Nutrition, Schlumberger and Indigo Ag.

Another bright spot in fiscal year 2018 was technology transfer, or movement of intellectual property that results from research, scholarly and creative activity and discovery efforts of faculty from university offices and labs into the marketplace. Researchers disclose inventions as a first step in protecting intellectual property and exploring whether an innovation could be patented. The Kansas State University Research Foundation received a record number of invention disclosures for the fourth-straight year, partially owing to the success of first-time inventors.

"We received 93 new invention disclosures — the previous record was 73 — and among those 93 disclosures were 65 K-Staters who were named as contributors for the first time," said Chris Brandt, president and CEO of the university's research foundation.

Technology transfer from the university, also known as commercialization, accelerates the delivery of research results to the public. It also results in increased licensing revenue for faculty and the university, which signed 105 commercial agreements that brought in more than $825,000 in new revenue and a total of more than $2.8 million in fiscal year 2018.

"Strong licensing revenue not only helps fund university advancement, but it also serves as an indicator of how significantly K-State creativity and innovation advances the lives of all Americans," said Kent Glasscock, president of the Kansas State University Institute for Commercialization.

Dorhout expects to see continued growth in the coming years. He said maintaining a vital research enterprise doesn't just help researchers but also supports other aspects of the university's land-grant mission.

"Kansas State University strives for excellence in teaching, research, and outreach," Dorhout said. "Research excellence feeds teaching and outreach excellence, because when we have the best, most current knowledge, our students and citizens benefit," Dorhout said.

Find out more about Kansas State University research at k-state.edu/research or k-state.edu/influence-tomorrow.