September 6, 2018
Acclaimed product designer John Phillips leads APDesign Ekdahl lecture series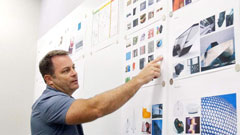 The College of Architecture, Planning & Design, or APDesign, will host product designer John Phillips, vice president of design development for OFS, as part of the Ekdahl Distinguished Lecture Series.
Phillips will present "Why design is the best career in the world and the only way to do it!" at 4:30 p.m. Wednesday, Sept. 12, in Regnier Hall's Regnier Forum on the K-State Manhattan campus. The lecture is free, open to the public and is sponsored in part by the K-State Student Governing Association's fine arts fee.
Phillips is responsible for the company's design and product platform strategies, development of all new products, product enhancements and life cycle management.
Phillips has an expansive design background in differing industries and design disciplines. He has spent more than 16 years in the automotive industry designing vehicle exteriors, interiors and components for the top brands in the world.
Phillips has designed consumer products and most recently oversaw seating product development for the past five years for a southern California manufacturer. An awarded designer who is extremely passionate about design and enjoys the challenge of creating world-class products, Phillips resides in southern California with his family. OFS is a family-owned, community-driven company providing socially responsible furniture and logistics solutions in office, health care, education and government, headquartered in Huntingburg, Indiana.
The Oscar S. Ekdahl Distinguished Lecture Series in Architecture and Design brings the finest professionals in the design and planning disciplines to APDesign and the K-State community. These individuals are selected to avail faculty, staff, students and regional professionals to the potency of design and planning in addressing the issues we face as a global society. The series honors Oscar Ekdahl who received his Bachelor of Architecture from K-State in 1933 and was a founding partner in Ekdahl, Davis, Depew, Persson Architects PA in Topeka.