September 6, 2018
Easton honored with outstanding teaching award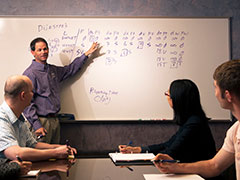 Todd Easton, Kansas State University associate professor of industrial and manufacturing systems engineering, has been named co-winner of the 2018 American Society for Engineering Education Midwest Section Outstanding Teaching Award.
The award, which focuses on outstanding classroom performance, also recognizes teachers of engineering and engineering technology who communicate a broad and accurate knowledge of the subject area, participate in the development of courses or curricula, and develop or author instructional material or a text that enhances the student learning process.
It will be presented during the awards banquet at the society's 2018 conference, "Putting Engineering Education in Practice," Sept. 16-18, hosted by the University of Missouri-Kansas City School of Computing and Engineering in Kansas City, Missouri.
Easton is an Ike and Letty Evans Cornerstone Teaching Scholar in the College of Engineering, and is a past Coffman Chair for University Distinguished Teaching Scholars at K-State.
His theoretical research focuses on decreasing the time required to solve computationally challenging problems. Additionally, he develops optimization models to create improved solutions to a variety of challenges in the areas of disease spread, green energy, sports and manufacturing. He also performs research in methods to improve teaching and student learning.