September 6, 2018
Beocat introductory training for faculty, students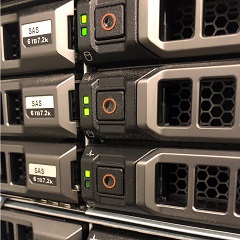 The Beocat staff will host Introduction to Beocat training on Wednesday, Sept. 12, and Friday, Sept. 14.
The target audience for the training sessions are graduate students and new faculty who are new to Beocat or who want to be more effective in its use.
The training session will be broken into four sessions:
1. Wednesday, Sept. 12, 2:30 p.m.
Getting an account
Connecting to Beocat
Transferring files
Introduction to Linux
2. Wednesday, Sept. 12, 3:30 p.m.
Slurm and kstat basics
Module basics
Tour of Beocat
3. Friday, Sept. 14, 2:30 p.m.
Using git
Advanced Slurm techniques
Module toolchains
Software installation
4. Friday, Sept. 14, 3:30 p.m.
Parallel computing overview
Performance of parallel codes
Sessions will be available live via Zoom. The content will not be substantially different than the training videos posted in February 2018.
Email beocat@cs.ksu.edu with additional topics you would like staff to cover.
Beocat is the central computing resource for multiple departments across campus, and is available to any academic researcher in Kansas and their partners under the statewide KanShare memorandum of understanding. Use of Beocat is free for professors and students in the state of Kansas. In addition to many users across the K-State campus, Beocat also is a resource for users from Wichita State University, Washburn University, Bethany College, Pittsburg State University, the University of Kansas and other institutions.
Beocat is supported by the National Science Foundation, National Institutes of Health, Department of Energy, Office of Research and Sponsored Programs and Information Technology Services.
For more information on its use or a tour, contact Daniel Andresen at dan@k-state.edu or 785-532-7914.