August 31, 2018
Lafene Health Center: Your health and well-being resource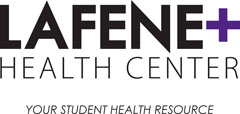 With the start of a new school year, it can be really easy to forget about taking care of yourself and being healthy. College students are always in close contact with others through classes, living situations with roommates and walking around campus. With all of these daily activities, it is very easy to become sick. During this time of year, Lafene Health Center always notices an increase in illnesses throughout campus. This year, the center has treated multiple students for upper respiratory infections, gastroenteritis, and hand, foot and mouth disease.
Remember to make time for hygiene — especially good hand-washing.
Wash your hands before meals, any time you will be touching your eyes, nose or mouth, or if you've been around others who are sick.
Cover your cough or sneeze.
Avoid sharing drinks or eating utensils
Disinfect common surfaces like cellphones and computer keyboards to reduce the spread of germs.
If you start to feel ill, please go online to the "myLAFENE+" patient portal at k-state.edu/lafene/or call Lafene Health Center at 785-532-6544 to speak with a nurse or schedule an appointment.