August 31, 2018
Menker to speak Oct. 8 on 'Why there doesn't need to be a global food crisis'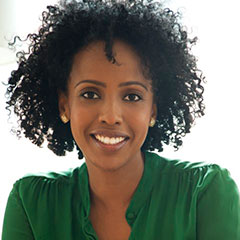 Sara Menker, the founder and CEO of Gro Intelligence, will deliver a talk titled "Why there doesn't have to be a global food crisis" on Oct. 8 in McCain Auditorium.
Menker is the fifth speaker in the Henry C. Gardiner Global Food Systems Lecture series, which was created in 2015 by the College of Agriculture and K-State Research and Extension, and endowed by the Gardiner Angus Ranch family from Ashland.
Menker's Oct. 8 lecture begins at 7 p.m. and is free to attend. Tickets are not required, but you are advised to arrive early since the auditorium generally fills up quickly.
Global leaders have warned of a looming food security crisis for nearly a decade, estimating that by 2050 the world will need to produce 70 percent more food. While that seems a sobering prospect, Menker says it's is wholly inaccurate.
The tipping point to a widespread food crisis, she says, could occur nearly a quarter-century earlier — by 2027, "unless we can commit to some type of structural (agricultural) change."
Menker says surging demand will surpass the agricultural system's global capacity to produce food, creating a 214-trillion calorie shortage. When that happens, Menker said people could starve and governments may fall.
The crisis can be avoided, she notes, if action begins now using the right tools.
Gro Intelligence is a technology company that is bridging data gaps across the global agriculture sector, empowering decision-makers and creating a more informed, connected, efficient and productive industry.
Before founding Gro, Menker was a vice president in Morgan Stanley's commodities group. She began her career in commodities risk management, where she covered all commodity markets. She subsequently moved to trading, where she managed a trading portfolio.
Menker is also a trustee of the Mandela Institute for Development Studies and a trustee of the International Center for Tropical Agriculture. She was named a Global Young Leader by the World Economic Forum and is a fellow of the African Leadership Initiative of the Aspen Institute.
She received a bachelor's degree in economics and African studies at Mount Holyoke College and the London School of Economics, and a Master of Business Administration from Columbia University.