Engineering professors funded by NSF to study clean water from wastewater initiative
Friday, Aug. 31, 2018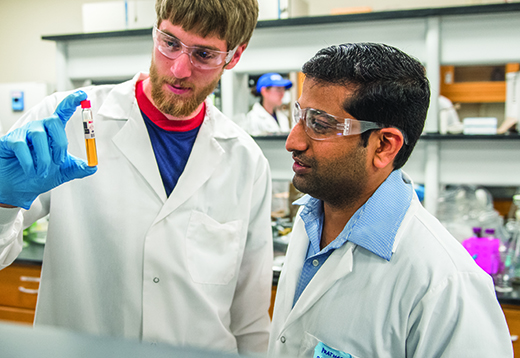 Prathap Parameswaran, right, an assistant professor of civil engineering at Kansas State University, is part of a new National Science Foundation-funded study to improve a wastewater cleaning process. | Download this photo.


MANHATTAN — Two Kansas State University College of Engineering professors will use a three-year, $304,427 grant from the National Science Foundation Environmental Engineering Program for a project improving a wastewater cleaning process.

Anaerobic membrane bioreactors are an emerging green technology for generating clean water for reuse from municipal and agro-industrial wastewaters while also producing methane gas to achieve an energy-neutral operation.

However, the bioreactors are limited by several factors, most prominent of which is the formation of biofilms on membranes within the reactor. This limits treatment capacity, adds to operation costs and ultimately makes a full-scale anaerobic membrane bioreactor operation unfeasible.

The NSF-funded study by Ryan Hansen, assistant professor of chemical engineering and lead investigator, and Prathap Parameswaran, assistant professor of civil engineering, seeks to gain a better understanding of how these biofilms form over the membrane surfaces.

The researchers will work to develop a novel analytical method of removing individual microorganisms from the membrane surface in order to sequence and identify microbes that initiate the fouling process. They will also characterize physical and chemical properties of the membrane material that make it prone to fouling.

"Membrane biofouling is a limiting factor in many water and wastewater treatment systems, and despite many years of research, is still a big problem," Hansen said. "We plan to provide new understanding of the fouling process by identifying specific subsets of microorganisms in waste streams known as 'early colonizers' — those that initiate biofilm formation by attaching to the membrane early on."
"If these organisms are identified, we may be able to target them and slow the fouling process," Parameswaran said. "By developing cutting-edge methods for studying the early colonizers, we also hope to apply this fundamental knowledge to areas beyond water/wastewater treatment systems."

The research team will have the unique opportunity to apply these tools to a pilot-scale anaerobic membrane bioreactor system during this project.

"This project will improve our understanding of how biofilms form on membrane surfaces in water treatment systems and give us information on treatment options that alienate membrane biofouling," Hansen said. "In the long term, our goal is to aid the development of an economically feasible anaerobic membrane bioreactor operation."

Two other objectives of the study will be the involvement of students who will be better prepared for successful careers in sustainable energy and environmental engineering, as well as providing research opportunities for underrepresented students throughout Kansas.