August 31, 2018
Engineering leadership program embarks on third year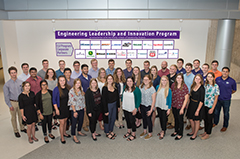 Participants in the Engineering Leadership and Innovation, or ELI, program in the Kansas State University College of Engineering met for a kickoff event Aug. 22 in Engineering Hall — 21 returning scholars and 21 first-year scholars.
Each participant receives a $3,000 scholarship, takes leadership and business courses, learns from an industry mentor, meets with industry leaders and practices hands-on leadership within a creative inquiry team.
The program draws on resources of the Staley School of Leadership Studies program, College of Business Administration, success of student-led College of Engineering creative inquiry teams in national competitions and a strong connection with corporate partners.
Three new corporate sponsors have joined the program since 2017 for a total of 19 partners: BHC Rhodes, Black & Veatch, BNSF Railway, Boeing, Chevron Phillips, Dolese, ExxonMobil, Garmin, Hallmark, John Deere, Kiewit, Koch Industries, McCownGordon, MMC Corp., Netsmart, Phillips 66, Spirit AeroSystems, Textron Aviation and Westar Energy.