November 7, 2017
Kansas State University students make top-15 cut in national swine-research poster competition
Submitted by Division of Communications and Marketing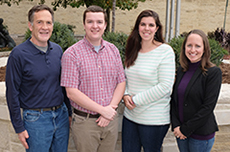 For the second year in a row, a pair of veterinary students have been selected to participate in the American Association of Swine Veterinarians' Veterinary Student Poster Competition, sponsored by Newport Laboratories.

Jordan Gebhardt, third-year Doctor of Veterinary Medicine student and doctoral student in animal science, Cedar Springs, Michigan, and Laura Constance, second-year Doctor of Veterinary Medicine student and doctoral student in pathobiology, Clyde, North Carolina, will compete at the eighth annual competition, which will be Sunday, March 4, at the association's 2018 annual meeting in San Diego.

In 2016, Gebhardt won the competition's top prize of $500, and Constance received a $200 scholarship for her poster.

This year, the top 15 poster abstracts out of 43 were chosen for judging based upon scores awarded after review of the abstracts submitted for the American Association of Swine Veterinarians Student Seminar.

Gebhardt's primary mentor is Steve Dritz, swine researcher and professor of diagnostic medicine and pathobiology. Constance's primary mentor is Megan Niederwerder, swine researcher and assistant professor of diagnostic medicine and pathobiology.

"To be selected for the poster competition for consecutive years is a true testament to the quality of Laura's and Jordan's research," Niederwerder said. "Recognition of their work by the American Association of Swine Veterinarians is a tremendous honor as well as a reflection of the importance of their projects to the swine industry."

"As concurrent D.V.M./Ph.D. students, Laura and Jordan will be broadly trained as research veterinarians to solve complex health and disease issues," Dritz said. "These are both wonderful students, and we are very proud they will be representing Kansas State University. We are also appreciative of the financial support the College of Veterinary medicine provides for the concurrent D.V.M./Ph.D. program."

Gebhardt said his project builds significantly upon research that has been conducted at Kansas State University on the benefits of medium chain fatty acids when used to mitigate potential pathogens in swine feed — specifically porcine epidemic diarrhea virus.

"The impact of supplementation with these specific compounds on overall growth performance in nursery pigs has not been previously evaluated by our research group," Gebhardt said. "The current project was aimed to assess the impact of medium chain fatty acid inclusion in nursery pig diets on overall growth performance and characterization of fecal microbes, and results are very promising. We observed substantial improvements in growth performance, indicating additional investigation is warranted to further evaluate these compounds and generate productive solutions for swine producers."

Constance's project examines the effect of the microbiome on porcine reproductive and respiratory syndrome, or PRRS, which is an economically devastating swine disease endemic to many United States farms, costing producers around $665 million annually. The title of her poster is "Pre-challenge microbiome composition is associated with improved weight gain in pigs after vaccination with a porcine reproductive and respiratory syndrome (PRRS) modified live virus (MLV) vaccine followed by challenge with PRRSV and porcine circovirus type 2 (PCV2b)."

"My project is focused on PRRSV and PCV2; two of the most economically devastating swine viruses that cause respiratory disease and reduced growth," Constance said. "Co-infections lead to secondary bacterial infections and increase the use of antimicrobials. With antimicrobial resistance a growing problem, producers need alternative methods to treat these infections. Our research suggests that modulating the gut microbiome could be used as alternative tool to control PRRS and PCV2 co-infections."

A panel of three judges will conduct a brief interview with each of the 15 students selected to participate. The judges also will evaluate the students' posters. The results of the poster competition will be announced at a luncheon March 5. Newport Laboratories is sponsoring the scholarship awards of $500 for first place; $400 for second and third places; $300 for fourth, fifth and sixth places; and $200 for seventh through 15th places.