November 7, 2017
Distinguished British violinist Madeleine Mitchell presents two events this week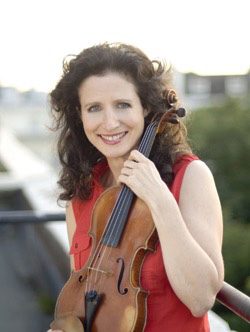 Distinguished British violinist Madeleine Mitchell, a violin faculty member of London's Royal College of Music who has performed in some 50 countries, returns to K-State following her recital five years ago, for which she received a standing ovation.
Following a stop in the Big Apple to give a master class at Juilliard, Mitchell comes to the Little Apple to work with K-State students and perform a recital.
Both events are free and open to the public:
• A violin and viola master class with Mitchell will be at 7:30 p.m. Wednesday, Nov. 8, in Kirmser Hall. Mitchell will teach three students from the K-State studio of Cora Cooper in a public forum. Students will perform works by British composers, capitalizing on Mitchell's expertise as a leading proponent of U.K. music. Pianist Alicia Willard will accompany the students. Sponsored by the British Music Society.
Program:
Rebecca Clarke, "Midsummer Moon" Adeline Chang, violin.
Edward Elgar, "Salut d'Amour" Christina Minton, violin.
Rebecca Clarke, "Sonata (movement 1)" Ethan Zajac, viola.
• A recital, assisted by Amanda Arrington, piano, and Cora Cooper, violin will be at 7:30 p.m. Thursday, Nov. 9, at the All Faiths Chapel auditorium. This introduced recital celebrates the release of Mitchell's new album, "Violin Muse" — world premiere recordings of violin music by established U.K. composers, including the Celtic flavored violin duos by Judith Weir, Master of the Queen's Music, and the short piece gifted to Mitchell in 2007 for her Red Violin festival by Michael Nyman.
A reception will follow the program in McCain Auditorium's Leavengood Courtyard.