November 7, 2017
Veterans Day Breakfast hosted by hospitality management student groups Nov. 10
Submitted by College of Human Ecology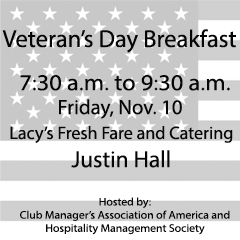 The hospitality management department's Club Managers Association of America and Hospitality Management Society student groups will host a Veterans Day breakfast from 7:30-9:30 a.m. Friday, Nov. 10, in Lacy's Fresh Fare and Catering in Justin Hall's Hoffman Lounge.
Breakfast is open to all students, faculty and staff and the public for a small fee while all veterans, active duty military personnel, those who serve in the Reserve or National Guard, ROTC cadets, and K-State police will receive complimentary breakfast.
Lacy's Fresh Fare and Catering is the newest addition to Justin Hall, providing a full quantity foods lab for the hospitality department. This breakfast will mark its first public service.