November 3, 2017
Sanskriti 2017 is Saturday, Nov. 4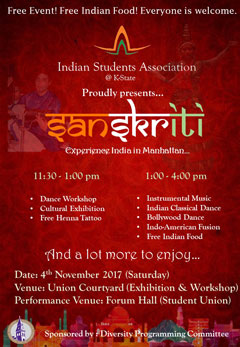 Indian Students Association at K-State, a registered student organization, is hosting Sanskriti 2017, a cultural event sponsored by the Diversity Programming Committee of K-State, from 11:30 a.m. to 4 p.m. Saturday, Nov. 4, in the courtyard and Forum Hall of the K-State Student Union. The event is free.
Sanskriti brings the Manhattan community together to enjoy free Indian food and art.
11 a.m. to 1 p.m.: A cultural exhibition, dance workshops and henna tattoo booth at the K-State Student Union courtyard.
1-4 p.m.: Performances in Forum Hall at the Union. There will be five guest performances from across the U.S. and plenty of performances by K-State students.
The association welcomes all K-Staters, friends and family on Saturday to enjoy the magic of Indian culture and art.