November 3, 2017
City of Manhattan, Usha Reddi honored with 2017 Innovative Educator of the Year Award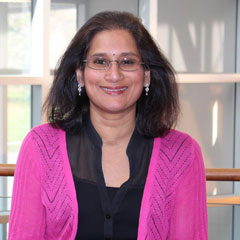 The city of Manhattan, Kansas, and Usha Reddi, city commissioner and former mayor, will be honored as the recipient of the 2107 Innovative Educator of the Year Award, presented by the K-State Office of International Programs.
Each year, the office presents International Education Week in partnership with the U.S. Department of State and the U.S. Department of Education. Institutions around the world will host events in mid-November to recognize international students, faculty, departments and organizations globally engaged within their community.
This Innovative Educator award is presented by the Office of International Programs to recognize an organization that goes above and beyond promoting international initiatives and/or serving our global student body.
Established in 2012, the Innovative Educator of the Year Award is determined by our Office of International Programs leadership team.
"The leadership team felt strongly that Usha's constant presence at university international events and programs is a demonstrated example of collaborative partnerships at the highest level," said Grant Chapman, interim associate provost of the Office of International Programs. "We selected Usha and the city of Manhattan because of her tireless efforts in elevating international awareness throughout our community. She has enthusiastically presented at our New Student Orientations in past years to welcome new international students to our city. Her presence and continued engagement is so evident with her participation at many of our ongoing international events."
The Princeton Review consistently ranks Kansas State University and Manhattan highly for great town-gown relations, which highlights the university-city relationship on a national stage.
"The Innovative Educator of the Year Award allows our office to publicly acknowledge and thank Usha for her personal efforts, interest and passion," Chapman said. "We are thrilled to have her and the city of Manhattan with her leadership to be recognized and rewarded for their partnership with Kansas State. We definitely count the city as an important part of our K-State family!"
April Mason, provost and senior vice president, will present this award and others at the 2017 International Education Awards Reception from 4-5:30 p.m. Thursday, Nov. 16, in the K-State Hale Library Hemisphere Room.
"I am blessed to leverage my role as city commissioner and former mayor to embrace our international population as an integral part of the city of Manhattan," Reddi said. "We are a great and diverse community with friendly people. Our welcoming nature is open to individuals that have traveled from aboard and made a choice to learn, live and work in Manhattan." She continued, "I appreciate you inviting and including the city in all your programs. I am excited for K-State and the city of Manhattan!"
Past Recipients of this award include:
2012: Ecuador's Ministry of Education and SENESCYT, Ecuador's governing body of higher education for the government sponsored Go Teacher program.
2013: The Brazil Ministry of Education, to recognize their investment and commitment in transforming education in Brazil through the Brazilian Science Mobility Program, funded by the government of Brazil over a three-year period.
2014: The Center for Higher Education and Research, Centro Studi Citta di Orvieto, in Orvieto, Italy, for working with K-State's College of Architecture, Planning & Design's Italian Studies Program.
2015: Paraguay's Comite Paraguay Kansas, or CPK, for assisting K-State in increasing our Paraguayan student population and for their investment and dedication in helping students achieve their goal of studying in the U.S. and at Kansas State University.
2016: Chinese Ministry of Education Hanban Confucius Institute for its commitment and investment at our university to introduce Chinese language and culture to our university and community.