November 3, 2017
Information session Nov. 8 for summer 2018 education abroad opportunity in China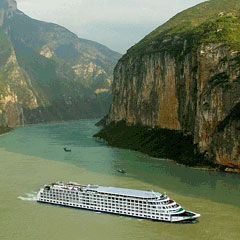 A faculty-led study abroad experience, Global Water Resources: China, is planned for summer 2018.
To learn more about the opportunity, students are encouraged to attend an information session at 4 p.m. Nov. 8 in 1037 Seaton Hall.
Organized and led by Stacy Hutchinson, professor of biological and agricultural engineering, and Shawn Hutchinson, associate professor of geography, the trip itinerary includes tours in Beijing, Changchun, Chongqing and Shanghai. A highlight of the trip will be a multiday cruise on the Yangzte River and visit the Three Gorges Dam.
China plays an important role in global politics, economics, food and energy production and consumption, and military affairs — and exerts significant influence over a variety of environmental concerns.
"China's tremendous economic growth has been impressive, but much of that progress has been achieved at great environmental cost," Stacy Hutchinson said. "Water resources, in particular, have suffered and represent a very real threat to future security."
While in Changchun, the group will join Chinese students to study water resources at Jilin University.
"This is an incredible chance for our students to see China firsthand by experiencing its culture, learning its history, and enjoying regional food specialties. Our trip removes the barriers students might otherwise face when visiting a country with such different language and customs," Shawn Hutchinson said.
Through the study abroad, students may enroll in as many as six credit hours for the summer. All students will take either BAE 620 or GEOG 795 Global Water Resources: China, which is an approved elective for the undergraduate certificate in geographic information systems and graduate certificate in GIScience programs. Undergraduates also may enroll in GEOG 332 Introduction to China to help them meet K-State 8 requirements for Global Issues and Perspectives and Historical Perspectives.