November 3, 2017
Nearly $400,000 in grants helps Kansas State University swine disease researcher take on deadly swine virus
Submitted by Communications and Marketing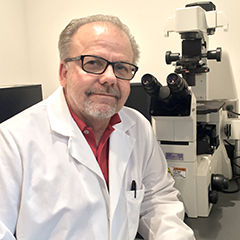 A new pair of research grants will help a Kansas State University researcher and his laboratory work on a method of preventing one of the most devastating and costly diseases found in swine.
Raymond "Bob" Rowland, professor of diagnostic medicine and pathobiology in the College of Veterinary Medicine, is a leading researcher in the area of porcine reproductive and respiratory syndrome virus, or PRRSV. His latest efforts focus on the CD163 protein found in swine.
Porcine reproductive and respiratory syndrome, or PRRS, has cost the U.S. pork industry billions since it first appeared in the late 1980s.
The role of CD163 is so compelling that Rowland has obtained nearly $400,000 in funding from two different organizations. The U.S. Department of Agriculture's National Institute of Food and Agriculture awarded him a $331,450 grant for "Preventing PRRS through modifications in the virus receptor, CD163." The National Pork Board awarded him $66,576 for "Adaptation of PRRSV to genetic modifications in CD163."
"Vaccines and other control measures have not proved effective and a new generation of vaccines is still years away," Rowland said. "Our previous work showed that pigs with the modified CD163 are completely resistant to infection with PRRSV. Since CD163 is important for homeostasis, including the regulation of inflammation and immunity, the goal of the proposed project is to develop pigs that possess a modified CD163 that prevents PRRSV infection while retaining normal CD163 biological functions."
Rowland said the developing pigs with the modified CD163 provides a practical and realistic approach for eliminating PRRS.
"There could be additional benefits too, such as the elimination of the costs associated with PRRS vaccination, diagnostic testing and PRRSV-specific biosecurity measures, such as barn filtration," Rowland said. "The results from this method of research will enable us to identify the viral genes and amino acids involved in the interaction between the virus and CD163. The proteins and peptide sequences in viral proteins that interact with CD163 can be used as protective antigens in vaccine formulations. In addition, the interruption of the CD163-PRRSV interaction by small molecules creates opportunities to explore alternative therapeutics, such as antivirals, so this research opens up a whole series of possibilities."