August 20, 2015
College of Education launches 'Not Just a Year of Social Justice Education' program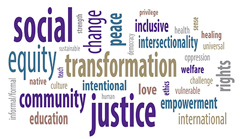 Keeping true to its heritage of diversity and inclusion, the College of Education and the Midwest Equity Assistance Center, or MEAC, will launch a universitywide and communitywide initiative to bring light to many of the defining social issues of our time.
"Not Just a Year of Social Justice Education" is the brainchild of Linda P. Thurston, College of Education associate dean of research and graduate studies and Lydia E. Skeen chair. The effort brings together researchers, subject matter experts, clergy, authors, community members and student organizations to weigh in on some of this generation's most pressing social issues. The activities supplement the college's Social Justice Education graduate certificate program.
Thurston tapped K-State leaders in women's studies, leadership studies, American ethnic studies, the student access center, the GLBTQ resource center, as well as leaders in the community and subject matter experts across the country for the yearlong program. The college's honors program students will be involved with the thematic activities and the college's Diversity for Community standing faculty committee is a partner in the planning.
"So many organizations across campus and in the community are doing great work in their areas," Thurston said. "What we have the opportunity to do here is to highlight many of these efforts together in one focused series of activities throughout a whole year."
"Not Just a Year of Social Justice Education" will offer monthly activities throughout the academic year to support a predetermined theme based on the logo for the word cloud for the college's social justice education certificate.
Ronna Olivier, Midwest Equity Assistance Center project assistant, said this is the ideal time to remind educators that MEAC's resources, books, movies, journals and more, are available free. For more information, contact her at ronna@k-state.edu or by calling 785-532-6408. She also can add other campus and community organization's social justice-related events to the MEAC calendar.
Following are just a few of the scheduled events in the first months of the semester for "Not Just a Year of Social Justice Education." Check MEAC's calendar for event information and the Website for updates and announcements. Stay connected by liking us on Facebook and following us on Twitter @NotJustAYear.
August — Faces of Social Justice Education, a video with children's voices from a local elementary school singing "We Shall Overcome."
September — Theme is education
Sept. 17: Ruben Parra-Cardona will present "Building Bridges of Social Justice: Embracing Prevention Research to Support Latino/A Communities in the U.S. and Mexico" as part of the Tony Jurich Lecture on Social Justice series.
Sept. 18: Sonia Nieto will present "Finding Joy in Teaching Students of Diverse Backgrounds: Culturally Responsive and Socially Just Practices in U.S. Classrooms."
Sept. 25: Multicultural Pride Day.
Sept. 30: Faculty panel discussing critical pedagogy.
October — Theme is empowerment
Oct. 1-2: Elaine Newman, will report about sexual assault and trauma journalism, sponsored by the women's studies department.
Oct. 5: Authors Andrea Davis Pinkney and Brian Pinkney will present "Social Justice Education Through Children's Literature."
Oct. 14: Author Wes Moore will present "The Other Wes Moore."
Oct. 15: Author and researcher Piya Chatterjee will present her book "A Time for Tea: Women, Labor and the Post/Colonial Politics on an Indian Plantation," sponsored by the women's studies department.