August 20, 2015
Football locker room to be named in honor of Jordy and Emily Nelson following generous contribution
Submitted by K-State Athletics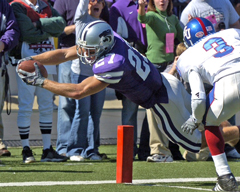 Former Consensus All-American wide receiver, 2015 Ring of Honor inductee and current Green Bay Packer All-Pro wide receiver Jordy Nelson and his wife Emily have generously pledged a philanthropic contribution to K-State Athletics to assist in the department's efforts to complete Phase III-B of the Bill Snyder Family Stadium Master Plan, the northeast corner of the Vanier Family Football Complex, Athletics Director John Currie announced today.
In addition, Currie announced that the football team's locker room in the Vanier Family Football Complex will be named the Nelson Family Locker Room in recognition of the couple's contribution.
"We appreciate Jordy and Emily's loyalty and generosity to K-State Athletics and our goal of providing a World-Class Student-Athlete Experience," Currie said. "Jordy and Emily are model K-Staters and for them to graciously give to enhance the experience of Wildcat student-athletes and fans is a true testament to their passion and love for K-State."
"Kansas State University and K-State Football have meant so much to our family and continue to be a big part of our lives," said the Nelsons. "The Manhattan and Riley County communities are home for us, and giving back to the program and university that have afforded us the opportunities that we now have was very important to us, so that student-athletes, fans and the entire K-State Family can continue to have the success they deserve."
The announcement of this generous gift from the Nelson family, in addition to the previously announced pledge from the Carl and Mary Ice family, provides tremendous momentum to complete Phase III-B of the Bill Snyder Family Stadium Master Plan project. The gifts from the Nelson and Ice families, along with other pledges, bring the department's fundraising total to more than $8 million toward the $15 million needed for the project.
The proposed new northeast corner will connect the east-side concourse to the new north end zone section debuting September 5th, thus achieving the BSFS master plan goal of a 360-degree concourse and fully enclosing the stadium. Other new elements of the structure will include visiting team locker space, training and officials areas, plus additional future office space as well as a new videoboard that will match the huge screen erected on the northwest corner this past spring, furthering the department's commitment to offering the Best Fan Experience in the Big 12.
"We are all so very proud of Jordy and Emily and greatly appreciate their involvement in the new Vanier Family Football Complex," said head coach Bill Snyder. "Jordy has never strayed from his value system and thus remains the same caring, committed, loyal, passionate Kansas State person who believes in his program and is giving back. They are a wonderful family."
A former walk-on who started his Wildcat days as a defensive back, Nelson made his mark on the Wildcat program during his final season as he was named a 2007 Consensus All-American and finalist for the Biletnikoff Award. In 2007, Nelson set school records for receptions in a game (15) and season (122), receiving yards in a game (214) and season (1,606) and yards per game in a season (133.8). He finished the year with 122 catches for 1,606 yards and 11 touchdowns and went on to be taken 36th overall by Green Bay in the 2008 NFL Draft. He finished his career with 206 catches for 2,822 yards and 20 scores.
Originally published in 2010, the Bill Snyder Family Stadium Master Plan has now seen completion of three phases representing $165 million in investment into K-State's football complex and amenities, as part of approximately $195 million in recent capital investments benefiting all 16 Wildcat athletics teams. These improvements have been completed in a fiscally responsible manner without utilizing any university, tuition or state tax dollars thanks to the generosity of K-State donors and fans world-wide. K-State is the only public institution in Kansas and one of less than approximately 25 nationally operating its intercollegiate athletics department with no direct or indirect university funding or state support.